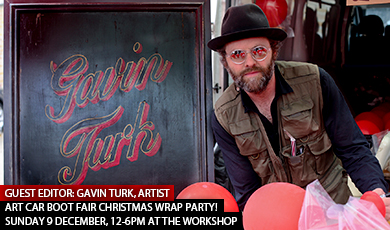 Christmas Wrap Party!
Our Guest Editor this week is international artist Gavin Turk. He's one of the Young British Artists who in November was arrested as part of an Extinction Rebellion protest, and on Sunday 9 December will join 80 artists for the much anticipated launch of the Art Car Boot Fair Christmas Wrap Party!

In Gavin's interview with writer Tamsin Omond they chat all things ACBF, weird gifts, and waking up the world to climate crisis.

In our Magazine section, we premier the (NSFW) short film Look At Me Like That by Tamsin Omond and Marika Kochiashvilii, with score by Fay Milton (Savages), cello by Grace Chatto (Clean Bandit), and a script taken from more than 50 women's candid interviews about their sexual experience. 'The film shows the bliss of realising and releasing your own sexual power' explains filmmaker Marika. Watch here.

Theatre maker Clare Beresford (Little Bulb Theatre) writes for Run-Riot about long journeys and the power of people putting faith in you.

New Year's Eve Party Top-Tips: we've picked out 10 of the best, here.

For more weird culture gems and obscure competitions (The Rave Space at Camden People's Theatre; Edible Cinema's Red Shoes; Boots Riley's satirical film Sorry to bother you at the BFI; or NYE Party with Aurora Orchestra!) - browse our Offers page. As for the best of the rest - rummage through our genre-bending pages where you'll find plenty of haut happenings.

Here's to wishing you a rabble-rousing week dear Players! Bottoms up! RR xx
Gavin's Top 4 Events
Our Top Competitions and Offers
1x Pair of Free Tickets: The Rave Space at Camden People's Theatre
21:00 Thu 06 - Sat 15/12
A 90-minute mix of jungle music, theatre, spoken word and ritual.

1x Pair of Tickets: Edible Cinema: The Red Shoes at Curzon Mayfair
15:00 Sun 16/12
A gastronomic cinematic experience, offering movie goers a feast for the eyes, ears, nose and tongue. Come and get a taste for the scenes in Red Shoes that stole Edible Cinema's attention.

1x Pair of Free Tickets: Boots Riley: Sorry to Bother You at BFI Southbank
Various Times, Fri 28/12/18 - Thu 10/01/19
A breathlessly inventive satire about a man climbing the corporate ladder. Just don't look down…

1x Pair of Tickets: Northern Lights: New Year's Eve Party with Aurora Orchestra at Hall Two, Kings Place
21:00 Mon 31/12
For New Year's Eve, light up the night with a festival-style party of live music, dance, food and drink with an electrifying line-up of artists.
Run-Riot Magazine
INTERVIEW
Gavin Turk's Rebellion and the Art Car Boot Fair Christmas Wrap Party!
It's only a matter of days until the Art Car Boot Fair Christmas Wrap Party hits The Workshop in Lambeth, so ahead of the event, Run Riot caught up with artist Gavin Turk to chat about the ACBF, Christmas and getting arrested to wake up the world to climate crisis. Read on...

ARTICLE
Clare Beresford (Little Bulb Theatre) on long journeys and the power of people putting faith in you…
Ahead of their third run at the BAC, Administrative Director Clare Beresford shares Little Bulb Theatre's journey in creating Opheus - their musical re-imagining of the greatest love story ever told. Read on...

RRTV
Look At Me Like That - A film by Tamsin Omond and Marika Kochiashvili
A short film, created by Marika Kochiashvili and Tamsin Omond, is launched online this week. The script was written following in depth and searingly honest interviews with over 50 women about their experience of sex. Check it out!

JOB OPPORTUNITY
Marketing Manager, the Design Museum
Having reopened their door in a newly refurbished home in Kensington, 2016, the Design Museum is looking for an exceptional Marketing Manager to join the team. Find out more about this exciting opportunity, here.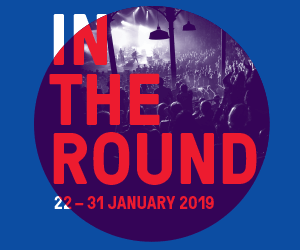 Follow Run-Riot on Twitter
Follow Run-Riot on Facebook
Run-Riot's NYE Party Top-Tips!

19:30 Mon 31/12
Cafe OTO Hogmanay: RP Boo + Seymour Wright + Paul Abbott trio + Cõvco at Cafe OTO
Celebrate NYE in style with footwork originator and pioneer RP Boo alongside the ever-radical Seymour Wright and Paul Abbott and the fiercely competent and original DJ, Cõvco.

20:00 Mon 31/12
Dancing in the Dark (80s Night) NYE Special at Moth Club
A club night simply awash with pure 80s gold and NYE sparkle.

20:00 Mon 31/12
The Social NYE at The Social
See out 2018 & see in the Social's 20th year with some truly excellent vibes. Expect live music from the psychedelic witch prog quartet, Madonnatron, Country Teasers frontman, The Rebel & DJs galore!

20:00 Mon 31/12
Mariah & Friendz NYE at Bethnal Green Working Men's Club
London's premiere queer-drag-circus-club night vaguely inspired by Mariah Carey, brings in the New Year with a festive extravaganza, featuring London's finest, filthiest drag, cabaret & circus talent.

21:00 Mon 31/12
New Year's Eve 2018 hosted by Diane Chorley at Soho Theatre
Welcome in 2019 in true Soho style with Soho Theatre's unmissable NYE party, hosted by legendary 80s superstar and full-time diva, Diane Chorley.

21:00 Mon 31/12
The Carnival of Light at Troxy
A dance event like no other. The world's most magical club night comes to the Troxy to help bring in the New Year in a total supernatural style.

21:00 Mon 31/12
Snap Crackle & Pop: Channeling NYE with Ivan Smagghe and Nathan G Wilkins at The Waiting Room
Bring in the NYE with two of the finest DJs in the game, playing all night long. Expect splashes of minimal synth, a serving of post punk, spoonfuls of industrial and a good dose of leftfield disco.

21:00 Mon 31/12
A Curious Invitation: New Year's Eve Masquerade Ball at the Century Club
Join A Curious Invitation in the unique and distinctly stylish Century Club for an evening of revelry and entertainment, bringing in the New Year with a bang!

21:00 Mon 31/12
Guilty Pleasures: New Year's Eve Party at KOKO
Join the immersive and unashamedly unapologetic Guilty Pleasures for another memorable New Year's Eve. Ditch the guilt and be a part of something fabulous!

21:30 Mon 31/12
Pleasurehood: New Year's Eve at XOYO
This New Year's Eve, all roads lead to Pleasurehood - an immersive world of excess and hedonism, soundtracked by the world's finest DJs.